WHAT DO YOUR SCENTS SMELL LIKE?
The Apprentice
- Fizzy lemon lime soda with a hint of fruit punch
Rise & Grind
- Black coffee mixed with hints of creamer, caramel, and chocolate
Boss Man
- Rich warm masculine complex cologne
Smoke Break
-Sweet and spicy Cuban tobacco, touch of pipe tobacco, with a light French Vanilla finish
Barbershop
- Classic crisp and clean barbershop scent with a sweet powdery finish
Average Joe
- Boring, just naturally fragranced.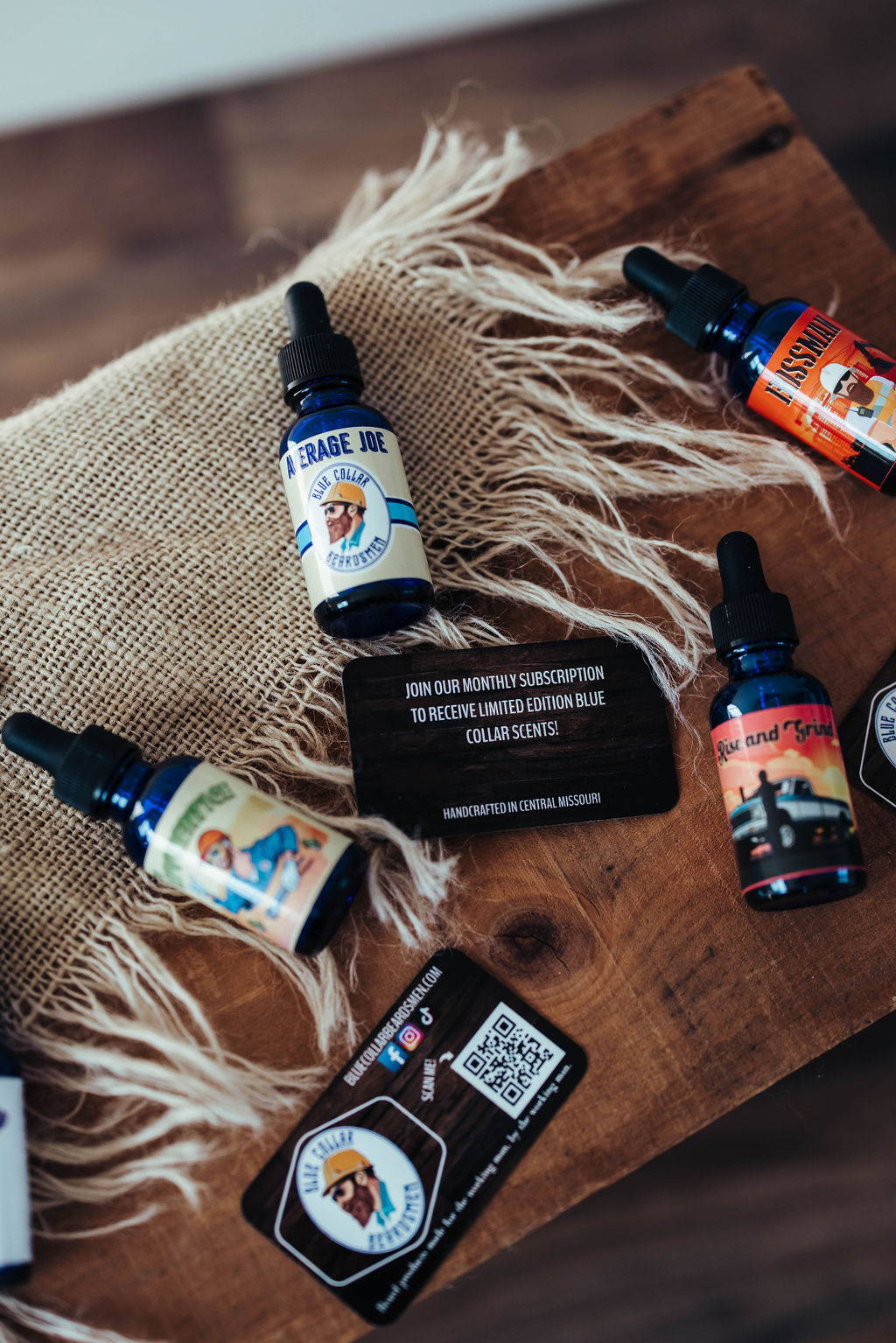 Where do you ship?
We offer $4 flat rate shipping within the US and $8 flat rate shipping to Canada.


Where can I buy locally?
We are adding new stores to our list every month! Please use our "Contact Us" page if you would like to locate any local stores, or would like for your favorite barbershop to carry our products!


What ingredients do you use?
Ostrich Oil Rice Bran Oil
Broccoli Seed Oil Meadowfoam Seed Oil Argan Oil
Jojoba Oil Avocado Oil
Skin Safe Fragrance Oil (Except Average Joe)


Directions
1. Shake well before use.
2. Place desired amount into palm of hand.
3. Massage between hands and work into slightly damp beard and skin.


Warning:
For external use only. Avoid contact with eyes. Test on skin for allergies before use. Discontinue use if skin irritation occurs.

What is the monthly subscription?
Each month we will release a limited edition blue collar scent. You have the option to do a 1-time purchase for $24.99 or subscribe monthly for $19.99. Don't wait!


These scents will only be available for 1 month! Click below to learn more.
How are you giving back?
A huge part of our personal lives is giving back to others. We want to carry this throughout our business as well by donating to several different organizations, charities, or blue collar scholarships each year.
Once our monthly subscriptions reach a certain membership- We will donate $1 per bottle sold to a different organization each month.
Follow our Social Media pages to help us decide who to donate to each month!